We are located within the historic Route 66 corridor in Central Oklahoma, near Chandler, Oklahoma, the county seat of Lincoln County, Oklahoma.
This region is considered the "Crossroads of America," positioned near the interchange of Interstate 35 and Interstate 40 (I-35 and I-40), two of the nation's primary highways. This is referred to by many as the Dallas Junction or the Little Rock Junction, dependent upon the direction they are going.
Shade Tree Aussies will often meet buyers halfway for just the cost of our expenses. If this would be of interest and assistance to you, please contact us for arrangements.
The nearest major airport is Will Rogers World Airport, located in Oklahoma City, Oklahoma. Shade Tree Aussies are willing to meet clients at the airport should you want to fly in to pick up your puppy.
The Oklahoma State Fairgrounds, located in Oklahoma City, hosts more than a dozen top national and world championship horse shows, attracting riders and spectators from across the nation and the world each year.
While you are here, don't forget to visit beautiful Bricktown, Thunder Alley, home of the OKC Thunder NBA team, and Bass Pro Shop, all located in downtown OKC.
For the convenience of our clients, we are often able to meet buyers or friends of buyers at the Fair Grounds to get your puppy a free ride home.
For information about upcoming events please visit the Oklahoma State Fair Grounds website.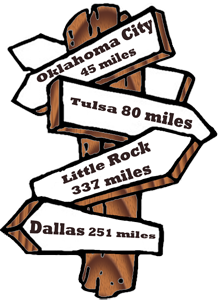 Visitors by appointment only.