Keep checking up for females coming up for retirement.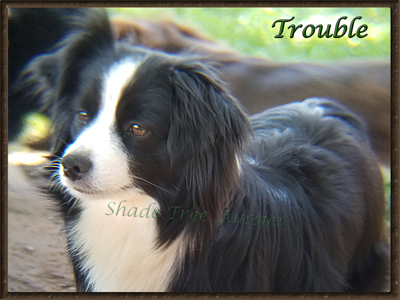 STA Sheza Little Bit Of Trouble
To learn more about Trouble please visit her page ~ "Trouble"


Trouble is looking for a human that will share the bed at night, and maybe take afternoon naps once in a while. She would like to go on lots of car rides with stops that involve food. Her favorite is Braum's vanilla frozen yogurt. She can drop her head and look out the top of her eyes and make you feel like a heel for not sharing every bit you put in your mouth.
This is where the human has to become the boss because all that human food is not good for her. She has a tendency to get fat pretty easily on top of the fact that it just isn't good for her. So, if you are "too easy" it would not be a good match for this girl as she has human shaming down to a fine science. If she thinks she can get you to feed something other than her own food she will go on a dog food strike. You have to be tough enough to realize that she won't starve. If all she has to eat is her own food that would be the best.

She is the perfect road trip companion. She rides for hours quietly. She knows to potty when she is on a leash. She loves to explore new places and she is a very good house guest. She kennels well at home or on the road but she still wants to sleep on the bed. If you need to leave her for any reason other than at home, I would kennel her.

Trouble can be silly at times, but mostly she is pretty serious. She doesn't like it when the younger dogs get to horsing around or roughhousing. If they get in her space a couple of times, she will correct them. She isn't mean about it but she is firm. I really don't know how she would be around children. What few come around here she has been pleasant with but we just don't have enough experience to be able to say one way or another.